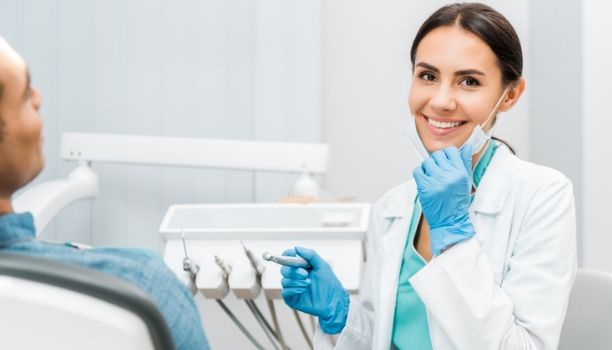 If you're currently in the process of upgrading or expanding an existing dental practice, a key consideration should be your dental office equipment. When purchasing a dental practice, the office will typically come stocked with essential items. However, it's important to ensure all the equipment and instruments stay in the office and do not become lost during the transition. Even if you already have what you need, upgrading the items below could enhance the appearance of your office, the comfort of your patients, and their overall experience. If you plan to sell your dental practice, making such enhancements to these essentials could add value to your practice and help you get the highest offer possible. Whatever the current state of your business, it's important to check the status of this essential dental office equipment:
Dental patient chairs
Dental patient chairs play an essential role in the daily operations of any dental practice. When choosing which dental patient chair is right for your practice, it's important to consider the needs of the patient, dental hygienist, dental assistant, and dentist. Quality dental patient chairs should provide a positive patient experience by being ergonomic. This means it should include comfortable padding and feature movable armrests so patients can easily get on and off them. To make dental patient chairs more efficient and comfortable for the dentist, they should have programmable positions, a thin backrest to provide ample legroom, and allow the dentist to make adjustments using a footswitch or touchpad. If the dental chairs in your current office don't fulfill such criteria or are worn out, don't maneuver easily or are stained, it may be time to upgrade them.
Sterilization equipment
You want to sterilize your equipment to prevent the spread of infection in your practice, as this is vital to its overall success and your patients' health. As such, quality sterilization equipment is of paramount importance. Sterilization equipment helps make the cleaning process of dental tools as efficient and effective as possible. They typically utilize either steam or dry heat to completely sterilize and dry instruments and equipment—often doing so in as little as a few minutes. In addition to eliminating cross-contamination and ensuring the health of patients, such sterilization equipment also reduces the risk of injury that can accompany manually washing sharp dental tools.
Utility equipment
Dental utility equipment is responsible for powering the equipment that professionals utilize in nearly every dental appointment. Such equipment provides pressurized air, water, and suction which is necessary for the operation of vital dental equipment and handpieces. Examples of dental utility equipment include vacuums, separation tanks, dental compressors, and amalgam separators. If this equipment isn't working, you cannot operate, so it's important that it be in good operating condition.
X-Ray imaging instruments
To properly diagnose, treat, and document a patient's dental condition, you'll need X-ray imaging equipment. Dental X-rays can detect minuscule signs of oral health problems—such as infections, gum disease, and cavities—so dentists can treat them at the earliest stage. Doing so helps minimize damage and provide the best possible treatment for your patients. If you have traditional film X-ray imaging equipment, consider upgrading to digital X-ray technologies to improve efficiency and reduce radiation. Digital X-ray equipment offers higher-resolution images that medical professionals can access and share instantaneously via a computer or tablet. Different types of digital radiography systems you should consider investing in include intraoral X-ray sensors, phosphor plate X-ray systems, and digital panoramic X-ray systems.
Dental operating lights
Poor lighting in a dental office can greatly reduce the quality of service, hinder the success of operations, and result in inaccurate diagnosis. As such, quality dental operating lights are incredibly important. The best part is you can mount dental operating lights to the ceiling, wall, cabinet, or any delivery system in a dental office. To provide optimal lighting conditions, they include a variety of swing arm options that allow dentists, hygienists, and assistants to adjust the direction of the light.
Delivery systems
Dental delivery systems provide easy access to a variety of necessary electric-powered dental instruments, such as handpieces, vacuums, and air and water syringes. Most delivery systems allow for automatic activation of at least three handpieces. Additional features they typically offer include airflow control, a control panel, and a self-contained waterline with asepsis tubing and purge system. You can mount such delivery systems on the dental chair or have them serve as a portable delivery unit. If you choose a chair-mounted delivery system, you can choose to position it behind, on the side, or over the patient depending on preference.
Operatory cabinetry
Effective storage solutions are necessary to maintain a neat and organized appearance within your practice. It also allows workers to quickly locate and access materials. When choosing operatory cabinetry for your dental practice, it is important to consider its durability as well as its aesthetic appearance. This will ensure it is long-lasting and will create a pleasing environment for patients. Different cabinetry options include mobile cabinetry, side cabinetry, rear cabinetry, and center island cabinetry.
Handpieces
Dental handpieces are necessary for performing a variety of dental tasks—from routine appointments to complex surgical treatments. Having the right handpieces for general and specific procedures is essential. Important handpiece systems to have at your dental practice include electric dental, hygiene, dental laboratory, high-speed air-driven, and low-speed air-driven handpieces. In addition to the handpieces' function, it is important to consider how it feels in your hand before making a purchase. You should consider its weight, head size, and balance to ensure it is comfortable and easy for the dentist, hygienist, specialist, or lab technician to use.
Henry Schein Professional Practice Transitions is a leader in dental practice sales and transitions. We strive to help buyers and sellers of dental practices through every stage of their transition to ensure the process goes as smoothly and efficiently as possible. Our in-depth knowledge, hands-on expertise, and commitment to your professional advancement are sure to help make your buying or selling experience a success.
If you want to purchase a dental practice or put your dental office up for sale in NJ, CA, CT, FL, or any other US locations, contact us today.